[Text: Tomas Borsa. Photos: Skyler Flavelle & Jean-Philippe Marquis.]
The ocean is, and has always been, a vital part to Haida culture; it's a gathering place, a playground, a teacher, and a grocery store all bundled into one. In Queen Charlotte City, where we've spent the better part of the day with Captain Tery Haymond, the marina is the focal point of the town. Tery arrived in Haida Gwaii in 1971, and hasn't left in the 43 years since. In 1994, he tells us, he began drafting designs for his Lorcha, The Scudder Point. Today, he and his son Jesse live aboard year-round. Asked for his views on whether the surrounding waters are a particularly safe route for tankers, as Enbridge has proposed, Tery tells us "There are places where, in the winter especially, it would take them days to get to if there was a spill happening. It's just going to sit there…When you have a wind against the tide, the swells begin to stand up on end, and basically you have big holes coming at you. It can be 25 or 30 knots of wind, and a 20 to 30 foot boat can't make any progress against it; you're down in the trough and then you're up. That's why I built this boat longer." Having worked as a kayaking guide for many years, Tery's made much of his living connected to the water. If there was a spill, he adds, "It looks like my son and my friends are going to be out there cleaning up oil. That's not the kind of work I want to do. I'd rather be broke all the time then have to make some money cleaning up oil."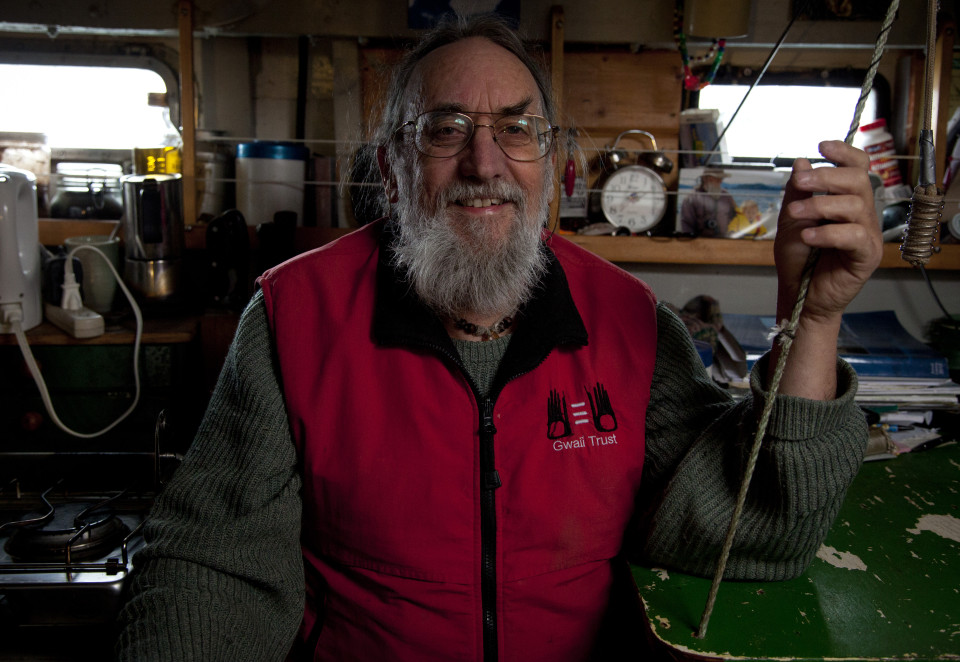 The following afternoon is spent driving up the island, past Balance Rock, through Tlell, and into the sleepy, bay-side community of Port Clements (Haida: G̱aauu Ḵaahlii Llnagaayy). There isn't much to it – a grocery store, a pub, and Harmonie's café are about all we spot from the road. But a bit further on, the pavement gives way to gravel and the trees become taller, more dense. In the middle of the forest we arrive at a short trail leading to an unfinished Haida canoe, abandoned only a short time after it began to take shape. Ten washboard-kilometres later, a small pull-out on the side of the road marks the beginning to the Golden Spruce trail. This was once the site of Kiidk'yaas, the revered Golden Spruce, felled in 1997 in a misguided attempt to protest logging activities on the island. Old-growth Sitka spruce and Pacific hemlock form the backdrop to the trail, which weaves along the Yakoun River through thick fern cover. The moisture is stifling. Dew drops gather and fall from overhanging canopies into the river, giving a sense of perpetual rainfall along the water's edge.
After an hour spent exploring the trail, it's cold, we're soaked, and we begin our trek on through Masset (Haida: G̱aauu), one of the islands' largest towns. It has a very different feel to either Skidegate or Queen Charlotte City – less populated, certainly, but also less hurried and more humble. A small surf shop is housed in a garage off a main street, and a maritime museum sits on a grassy crest near the centre of town. In nearby Old Masset (Haida: G̱aauu Llnagaay), many of the houses are still built in the traditional longhouse style with heavy cedar beams. The wind is now stronger than ever and heavy snow flakes have begun tumbling down in sheets – a reminder of the total indifference nature can have toward human plans.
Along the way we've picked up Caylin Holland, a surfer originally from Hanley, Saskatchewan, who knows the area well. He suggests we camp out in a log cabin along Agate Beach, a secluded point on the North coast. After warming ourselves by the cabin's wood-burning stove, the four of us spend some time exploring the area around Rose Spit. Haida creation stories teach that it was here that the first Haida emerged, coaxed from a clam shell by the mischievous Raven. In retrospect, I suppose I was wrong to say that the ocean has always been a vital part to Haida culture. It's much more than a part of it, it's the essence of it – the beginning, middle, and end.